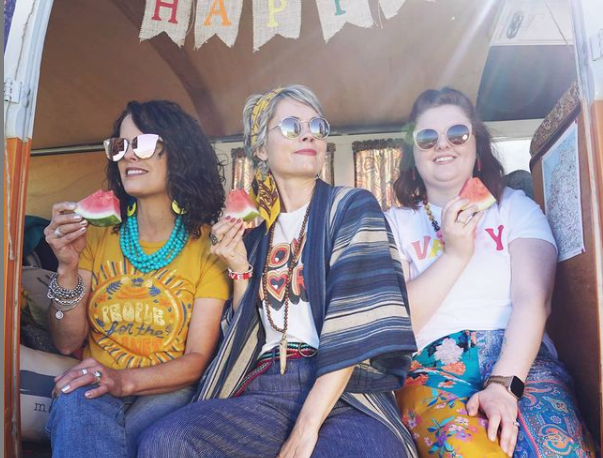 Women to Watch: Suzy Freeman of Unfurl Eco-Boutique
Women to Watch is a Q&A series where we highlight women we work with, appreciate and admire. Suzy Freeman of Unfurl owns a fabulous eco-boutique and sustainable lifestyle store in Manzanita, Oregon which helps local wildlife habitats with every purchase! 
How did Unfurl come to be?
Unfurl started with a passion for organic broccoli! Back in 1997 my husband and I moved to Manzanita to run the local natural food store, where we began offering a small section of organically-grown cotton socks and hemp sweaters. Jud was washing dishes one night and said, Suz, you should think about opening an organic clothing boutique. You could call it "Unfurl" or something. The idea stuck, the name stuck, and within a week we had a location just a couple blocks away. Now we work together again and all is right in our world!
What kind of products does Unfurl specialize in?
We have an eye for sustainable brands that are committed to eco-fibers, ethical production, plastic reduction, and giving back to important causes. The styles we hand-pick are contemporary, but not so trendy that they will wind up in a landfill in a matter of months. When I do my buying, I try to imagine our customer getting at least 30 wears out of an item before she (hopefully) passes it on to someone else for another 30. 
How do you inject fun into Unfurl?
It's been fun experimenting with promotional videos on Instagram! Our favorite song of the moment usually inspires the theme of the next video. Recently, I skateboarded in a parking lot full of seagulls and played a 5-gallon bucket drum to feature a new line of sneakers. One of our most viewed videos involved the whole staff and an orange VW Bus loaned to us by a long-time customer. We featured about 30 products in a couple of minutes while we danced, played ukulele, hula-hooped, and ate watermelon. It was a team-building experience, and people still mention how much they loved that video! During these difficult times, we just hope to bring a smile to our supporters and ourselves.
Unfurl has donated over $125k to local environmental non-profits since 2010. What organizations have benefitted? 
Unfurl opened its doors in 2004 with an eclectic array of truly wholesome goods. Scarves made from peace silk, 100% hemp denim,  screen-printed skirts from old pillowcases. The store was more like a gallery of eco-curiosities than a functional place to shop. One day a local school teacher diplomatically said, "Suzy, I love that you carry hemp flip-flops with recycled car tire outsoles, but can you PLEASE order me some cute boots I can wear in the classroom?"
That's when Unfurl expanded our product line and joined 1% for the Planet. Now, every single sale we make gives back to local non-profits that protect the land, wildlife, and ocean. We are proud to partner with North Coast Wildlife Center, Friends of Cape Falcon Marine Reserve, North Coast Land Conservancy,  and Lower Nehalem Community Trust. 
How long have you been carrying YALA? What is a customer favorite and why?
We go way back with the brand! Our perennial best-seller that helps pay the rent is absolutely the Kai Boatneck Top. Women love how the bamboo fabric feels next to their skin and this style looks so smart layered under a jacket, especially in the bold stripes.
What would your dream job be if you were not running Unfurl? 
Definitely working in the woods with wildlife, which is what I did before I became an entrepreneur. In my dream of dreams, I would open a wildlife rehab center in our area.
What is your superpower? 
I believe my true superpower is that I am an encourager. I love seeing my customers, my staff, my family, and friends go for their hearts' desires and break through their limitations. Maybe the time I take to actively listen, maybe the words I say when we're one-on-one outside the dressing room make a difference in the world. I sure hope so. I just really care about people.
How can we get some Unfurl goodies?
We buy limited-size runs, so most of our goods sell out quickly! Because of this, we don't sell through our website. Our priority is to create a welcoming experience for our in-person shoppers.
That said, feel free to direct message us if you see something from one of our shoots or videos you want to purchase on social media. We'll send you a PayPal invoice and ship it out lickety-split! Otherwise, please plan a trip to the beach and enjoy the authentic Unfurl experience!
Instagram: @unfurlmanzanita 
Facebook: @unfurl.manzanita