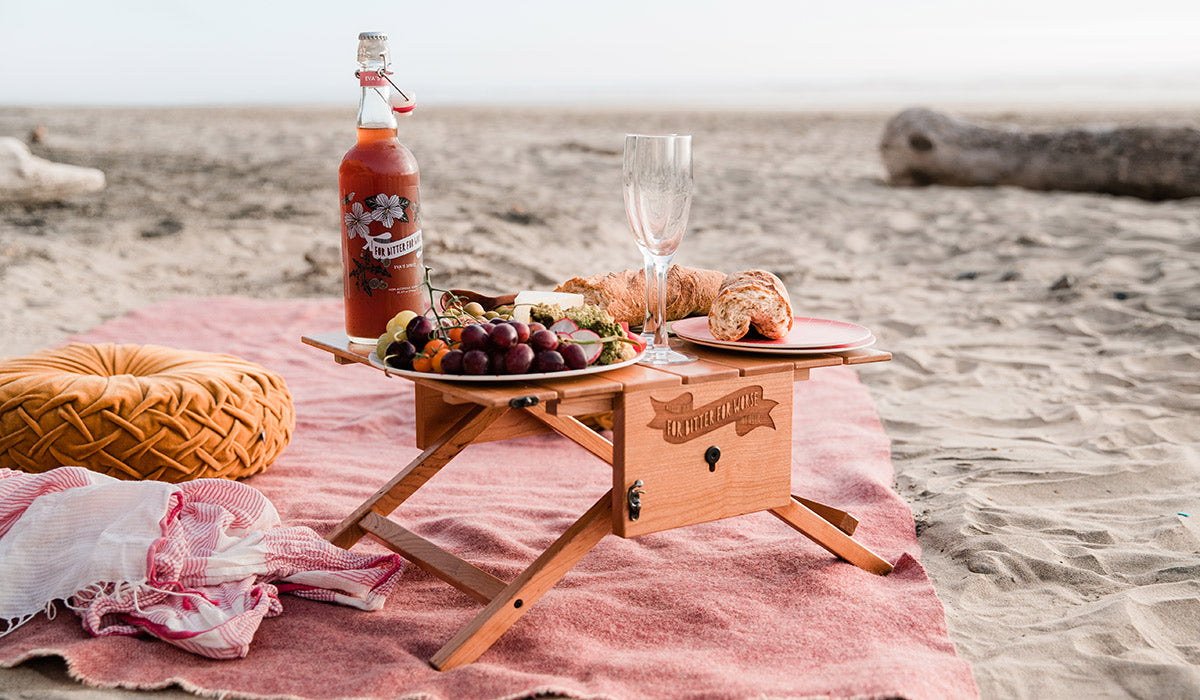 Q & A with Shelley Elkovich of For Bitter For Worse
Shelley Elkovich of For Bitter For Worse
Women to Watch is a Q&A series where we highlight women we work with, appreciate and admire. Shelley Elkovich is the owner of For Bitter For Worse, a Women-Led, Oregon Bred small business. We've enjoyed swapping success stories and sipping on their out-of-this-world, non-alcoholic cocktails.
How did For Bitter For Worse come to be?
I've always been the drinks enthusiast who made a signature cocktail for events, the designated bartender at every party and potluck. While I occasionally made non-alcoholic drinks, most of the time I mixed alcoholic cocktails and always had an overflowing bar cart stocked with my own concoctions, such as vermouth, bitters, and liqueurs.
The catalyzing event was a whale-watching trip on the Salish Sea. My husband Jeff and I, along with a handful of friends, enjoyed a magical day on the water observing a pod of orcas. That evening I had trouble with balance and coordination. It was as though I was very intoxicated. Eventually, I was diagnosed with a rare neurological syndrome with a fantastic French name: Mal de Debarquement. 
I could no longer drink alcohol. I missed the evening happy hour ritual, and there weren't any drinks on the market that both pleased my palate and met my standards for ingredients. I found my purpose in that health challenge and began experimenting. Jeff and I launched For Bitter For Worse in late winter of 2020.
Why are alcohol-free, artisanal cocktails important to you? 
I have to admit that until I broke up with booze, I had a blind spot as a host. I didn't always do a stellar job of offering alternatives for my guests who weren't drinking. Now that I've "been there," I understand the outsized place alcohol has in our social occasions. I want everyone to have a place at the party, and I want the choice to cut back or eliminate alcohol altogether to be normalized. Nonalcoholic cocktails are a healthy, sophisticated means to ritual and celebration.
Is working with your family a dream come true?
It has been an unexpected dream come true because it's brought our tight-knit family even closer. In March 2020, our two kids were living in Manhattan. They lost their work, and as you know, NYC was hit hard by the pandemic. We got them to Portland safely and we all lived together for five months. Gaining our kids as smart, motivated workers in our business was a pandemic silver lining.
In terms of the partnership, Jeff and I met in college and have been married for thirty years. It's great to shake things up and work together on a challenging project. I'm the leader in terms of vision, product creation, and business development, but Jeff makes it go. He's the one who figures out how to implement my ideas, and who designs systems and equipment. We're a time-tested team!
What goes into FBFW drinks?
Great question, and one I'm very passionate about, so please excuse the soapbox in advance ;) So many of us are interested in being mindful about what we ingest. But not all "natural" products are created equal. We use real botanicals in our drinks. We forage the Douglas fir tips ourselves, and we ethically source our ingredients. We're the only nonalcoholic cocktail brand we know of that A) makes our own product, and B) does not take lab-made shortcuts, such as "natural" flavors and preservatives. What we do is an artisanal labor of love. And no one else has our patent-pending "reverse bootlegging" production method. This distillation method achieves unparalleled complexity and depth of flavor.
What gets you excited to go to work in the morning?
I love creative problem-solving and big-picture thinking. My goal is to transform culture. I also appreciate the opportunity to use business as a force for good—for people and the planet.
How do you and Jeff enjoy YALA Loungewear?
We were already fans of YALA bedding, and I have a silk-cashmere blend YALA bathrobe that is still going strong after many years! Jeff is delighted by the menswear line. He lives in the soft Nathan Tee Shirt and Zach Joggers. I love snuggling up to him when he wears YALA. It's by far the softest clothing he owns, and it's cool to see a man embracing the pleasures of soft clothing. And I cannot tell you how much I love my Jemma hoodie. I need to get one in another color.
What causes do you support through FBFW?
We're pretty eclectic because one of our brand pillars is inclusion. We're also passionate about sustainability. For a dozen years, I served on the board of The Klamath Siskiyou Wildlands Center, an incredible environmental advocacy group. Right now, sales of our drink kits benefit The Trevor Project, a crisis support non-profit for the LBQTQ+ community. Past donations have included a community meal service in Delhi India, Girls Inc, and the COVID support project at the Pueblo Action Alliance. Upcoming donation campaigns will go to mental health counseling for Black Women & Girls via the Loveland Foundation. We're an emerging brand, but it's important to materially support causes we believe in from the start—and as we grow, so too will the size of our contribution!
How do you bounce back from difficult workdays?
I hand-write thank you cards to our customers. Our son Rowan (the fulfillment czar) writes most of them these days, but I still write as many as I can. It helps me to access gratitude for the relationship, and to go beyond the financial transaction.
Any upcoming expansions on the horizon?
I'm so glad you asked! We just completed the build-out of our new production facility, and we're taking investment through an equity crowdfunding platform called MicroVentures. It's such a cool model because it allows us to share our success with the community, rather than beginning with an institutional fund. Investment opportunities start at $100, so it's quite inclusive.
If people would like to learn more about our drinks, they can visit forbitterforworse.com. If they're interested in investing in a socially conscious business in a booming market, they can check out our offering page on MicroVentures.