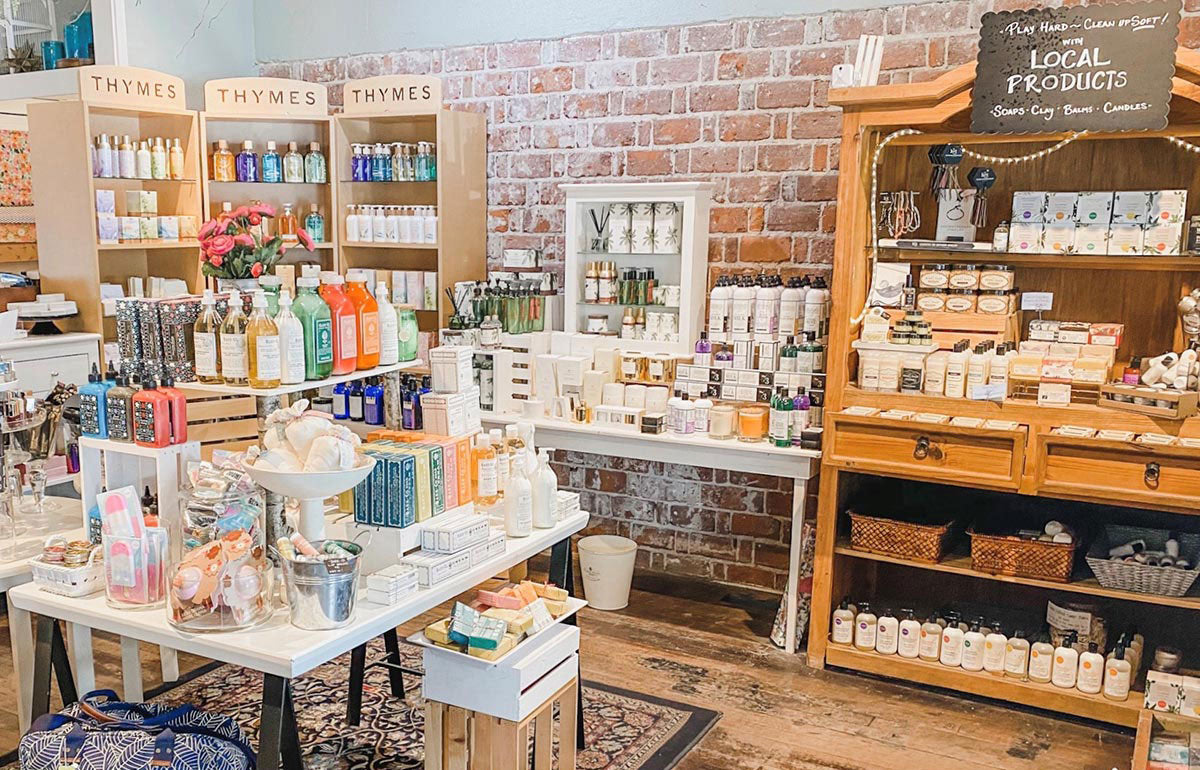 Women to Watch: Lauren of Oregon Body and Bath
Women to Watch is a Q&A series where we highlight women we work with, appreciate and admire.
Lauren and Oregon Body and Bath
Lauren of Oregon Body and Bath cultivates a sense of community in Downtown Bend, Oregon as the owner of a long-standing retail shop. Get her take on what makes this Central Oregon community special, including her favorite spots to eat!
Where did the inspiration for Oregon Body & Bath come from?
I'm grateful for the two owners of the shop before me. They worked hard to create a space where Central Oregon residents and visitors can slow down and focus on the things they need to make themselves happier. Oregon Body and Bath has been a destination in Downtown Bend for 30 years in October! I am so proud to continue the tradition for the last seven years by carrying goods that help people focus on themselves, to help them feel softer in this fast world.
What do you love about living and doing business in Bend, Oregon?
Bend is indeed a recreational wonderland, which is a great reason to live here. But what makes Bend unique isn't just the playground we call our backyard; it's also the sense of community living here creates among the residents. One of my favorite things about owning Oregon Body and Bath is being part of the Downtown Bend Community, full of long-time, locally-owned, independent shops like mine. Our community works together to help each other grow and thrive. It's empowering to own a business in that environment. Of course, being 30 minutes from a ski lift doesn't hurt, either!
What are your customer's favorite YALA Products? 
Our customers' favorite YALA item is the Delia Nightgown. Our customer often buys one for themselves and one as a gift because it has such a flattering neckline and cut. Our staff favorite is the Jena Top – we all have multiple since there is a color just right for everyone. You'll find me wearing one pretty much every day from October through April because it is the perfect layering piece.
What local brands do you carry in the shop?
Central Oregon has a great tradition of small businesses. As a small business owner myself, it makes me happy to be able to support my local colleagues. Some locally made products our customers love include DANI Naturals and the Bend Soap Company.
Favorite places to eat and shop in Bend?
There are SO many great places to eat and shop in Bend, but I'll share some highlights. We hardly ever go a week in my house without picking up Spork for dinner. Other dinner favorites include Wild Rose and Yoli. Bend's beer scene is what draws out-of-towners here, and my favorite spot is the lawn at Bend Brewing Company - situated on the Deschutes River. It is a picturesque place to enjoy my favorite Tropic Pines IPA. For shopping, I am grateful that Bend helps us shop locally. Some favorites include the Birkenstock Bend Shoe Co for shoes for every season, Outside In for clothing, and Leaping Lizards to shop for my kids' birthday parties.
How do you decide what to carry?
I've tried to balance maintaining the high-quality lines that our regulars already love while bringing in new lines that I know they'll love. So when I'm considering a new line for the shop,  I look for a commitment to high-quality ingredients that I would want in my home, a commitment to sustainability, and something unique to Bend.
How do you survive Bend's hot and dry summers?
This is a timely question, as we just finished our annual heat wave where temperatures reached triple-digits all week! I like DANI Naturals Body Scrub in Coconut Hibiscus – it keeps your skin hydrated all day, and the scent smells like Hawaii!
Any new developments on the horizon?
We are so incredibly excited to offer YALA's Bedding. We've been asked over the years why we don't carry bedding, and it was because I couldn't find a line I could put our stamp of approval on. Then I discovered the soft, luxurious feel of YALA's sheets and the commitment to sustainability - it's a perfect addition to our shop.
Tell us more about Oregon Body and Bath
We're a small, woman-owned business and are so grateful for our loyal customers. In October, we will celebrate our 30th anniversary! It is so special to see multiple generations of families shop here. We hear unique stories every day about how someone's grandma used to buy this product, and the smell provides a memory. Or how families have a summer tradition to make Oregon Body and Bath their first stop when they come to Bend. You don't expect that level of connection with customers, which is my favorite part of owning this business.
Our Team & Values
The question 'Why do you produce in China?' gets asked a lot. Our customers are critical thinkers, and a healthy amount of skepticism is part of purchasing products and supporting brands that align...
Read more